The blue note principle is really a kind of grace note principle using the so-called 'blue' note (on the blue note see becifringsklaver 3, page 18). This principle can also be the starting point for a piano pattern which can be used in more bluesy numbers. The basic principle is with one or more fingers to slide a halftone up to a chord note. In a major chord is the most common to slide up to the third of the chord (4 semitones from the root), in minor it's fifth of the chord. Other possibilities exist as well.
As with the grace note principle, you can play this fill-in the fast or slow mode. Eg listen to Ben Folds: 'Philosophy'
Numbered fill-ins appears in Chords On Piano 1-3, where there are also other fill-ins as well as suggestions and recommendations on how they can be used. Literates fill-ins only occurs on this website.
The following fill-ins appears in medium swing, but might as well be in a medium beat feel. In becifringsklaver 3 there are also examples of blue note fill-in in 3/4 time and in slow swing.
Medium swing (medium beat)
Fill-in O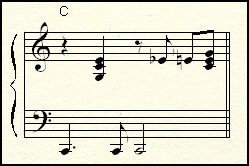 Fill-in P